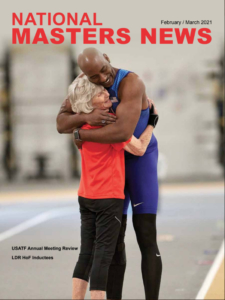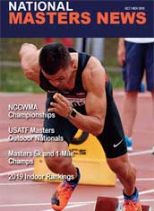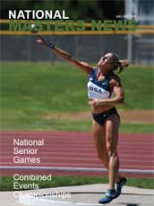 National Masters News
Today's seniors are not the golden agers of old; they are active, they are competitive. National Masters News provides them the opportunity to see what their peers are doing, to see how they measure up, and to discover how much fun Masters sports can be.
Providing training and nutritional advice, meet results and highlights, annual rankings lists and sport current events, National Masters News provides a forum for all involved in MTF to share their stories and photos, find information about the sport and discover what a tremendous thing it is to still be able to do that which they love, at any age.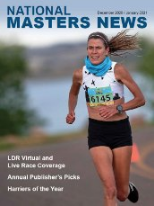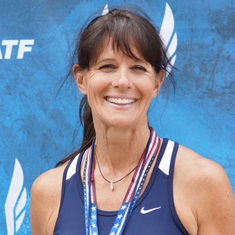 Amanda Scotti
Publisher since 2014 Amanda Scotti hails from the track-lovin' state of Oregon. After attending Clackamas Junior College (1978 NJCAA Women's US Track Champions) on track and journalism scholarships she transferred to Alabama's Auburn University to complete her education. She has earned several Masters and Seniors US sprint championship titles since discovering Masters Track in 2008 and is currently a member of the USATF MTF Executive Committee, having been elected in 2016. Scotti, who moved to California in 1988, lives in Folsom with her two sons, Jack and Sam.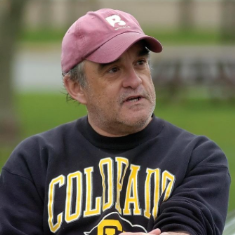 Ken Castro
Head Track and Field writer Ken Castro has written for over 100 outlets across the United States covering the Stanley Cup, World Cup of Hockey, USA Indoor Track and Field Championships, UCI World Cycling Road Championships, The USA Women's National Hockey Team, Penn Relays and multiple NCAA regional championships. He counts Sir Roger Bannister and Ken Dryden among his favorite one-on-one interviews.
Following a renal transplant in 2010 he's competed in transplant games across the globe. Castro is a graduate of Roger Williams University and lives in Rhode Island with his wife JoAnn.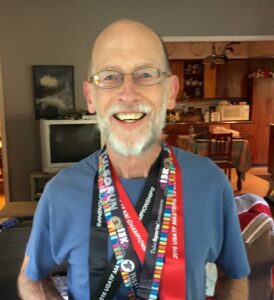 Paul Carlin
Long Distance Running head writer, Paul Carlin is a 'running prof' in two senses. He is a Professor (Emeritus) of Economics at IUPUI, the urban research and health sciences campus of Indiana University, and he is a current (semi) professional road racer having won a number of national and regional road races.
Carlin authors a popular blog, runningprof.com, which provides useful information for both Masters and runners of any age.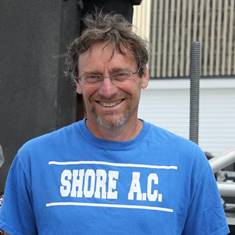 Dave Talcott
Masters Racewalk head writer Dave Talcott is an extremely accomplished Race Walker and the USATF MTF RW Records Chair. Talcott has qualified for four Olympic Trials and, at age 59, became one of the oldest athletes to ever compete in the Olympic Trials in any event, proving that age is just a number. In between writing for National Masters News, racing all over the world and keeping numerous stats for the MTF RW community, Dave and his wife, Erin Taylor-Talcott, train together in their hometown, of Owego, New York. and host the 'Not Just a Walk in the Park' and 'Kennedy March' races which are open to anyone wanting to give endurance events a try.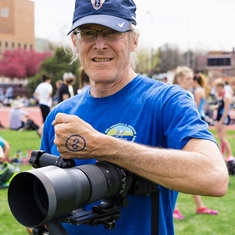 Dave Albo
Colorado native Photographer Dave Albo attended the University of Colorado, Boulder where he still lives and works as a software engineer. A long time masters track and field athlete, his career highlights include 800m silver and bronze national championship medals, and 400m All American status. Albo is an avid sports photographer with a track and field emphasis whose artwork-like photographs celebrate the best of Masters Track and Field. A member of the Ric Rojas Running group, he trains alongside both masters and young athletes and enjoys photographing the group workouts. Albo claims his wife Patty Murray-Albo is by far the better athlete in the family.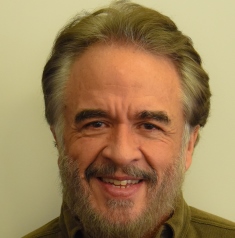 Rob Jerome
Rob Jerome is an award-winning photojournalist whose work has appeared in newspapers, magazines, scientific journals, web sites, television programs, museum catalogues and books. He has been photographing Masters Athletes since 2007. Prior to his career as a photojournalist, Rob was a partner in the management consulting division of an international professional services firm.